Led by Amy Lethbridge, we pride ourselves in creating incredible, bespoke flower arrangements to suit your taste, budget, space and occasion. Individually created with your direct input, we prepare flower creations for you and deliver to venues throughout the area free of charge (and electric-powered!).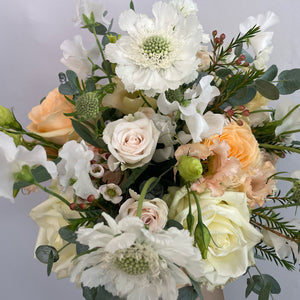 Creating weddings to remember
At The Cove we thrive on creating truly unique flower creations for your special day. Offering a free wedding consultation with a complimentary glass of locally-produced sparkling wine, we talk through all aspects of your wedding plan helping you create bouquets and arrangements to best suit your personal taste.
We are on-hand to help plan bridal flowers right through to reception arrangments, venue displays and more, with our knowledgeable and friendly staff talking and visualising all aspects.
Learn more
The cove were the florist for our wedding and it was the best decision we made! Amy was amazing: her service is so personal and her passion and care shone through when discussing our vision. She goes above and beyond and the flowers were more than we could have dreamt of. Would highly recommend.
Elizabeth Pearce, Google Review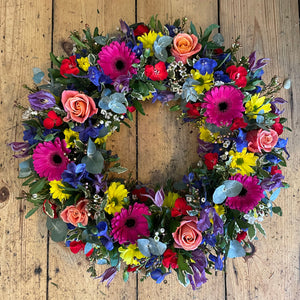 Farewell & sympathy
Farewells and funeral flowers provide an opportunity of remembrance and celebration. With sympathetic support, our team work directly with family members and Funeral Directors to ensure the service and day runs smoothly and as intended.
With our understanding that this is a very personal arrangement, we are able to offer a completely bespoke service which can include fresh and dried flower options.
Learn more
Did you know? We host floristry, wine and gin experiences for different occasions.
Speak to a member of our team to enquire about how we can make your event interesting for all.
Contact the cove